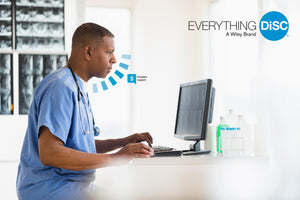 1-2-1 Online 90 minute EverythingDiSC Productive Conflict Coaching Session
Regular price £275.00 Sale
This 1-2-1 90-minute coaching session has been designed by the experts at DiSC to help you better deal with conflict in the workplace. An unavoidable obstacle of team management, this dedicated session will help you transform destructive behaviours into productive relationships to strengthen your businesses results.
During the hour and a half online session, you will be introduced to the DiSC instrument and its 4 styles by a DiSC Practitioner/ leadership expert. They will help you to understand and recognise different personality traits that influence your behaviour at work and how you can use this information to resolve conflicts faster. This ensures that should an issue occur in the workplace, you are suitable educated to deal with it in a professional and efficient manner.
Please note, before your session, you will complete a needs analysis to ensure we build the session around your specific requirements. Please contact us to arrange a suitable time and date.
1 x 90 minute 1-2-1 online coaching session
1 x PDF workbook
1 x DiSC Productive Conflict Report (worth £65)
Access to MyEverythingDiSC Online Learning Portal. Includes downloadable resources, podcasts and comparison reports with colleagues

Personal Development Plan for Performance Improvement