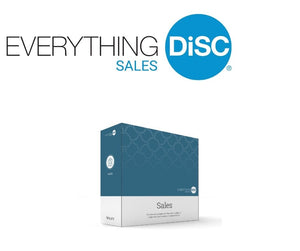 EverythingDiSC Sales Facilitation Kit
Regular price £995.00 Sale
The Everything DiSC Sales Facilitation Kit is a fully customisable training programme designed to improve the effectiveness of your sales process. It is best suited to salespeople within your organisation and will help to build their relationships with the Buyers using a 3-part sales training and competence report.
Within these 6 individual modules, you will be introduced to the DiSC sales styles and how their personal priorities influence selling behaviours. Furthermore, information is provided into customer priorities and the skills needed to identify different buying styles. All of this information will help the sales team to adapt their methods for the most challenging customers.
The EverythingDiSC Sales Facilitation Kit includes a USB drive with:
Leader's Guide in MS Word (customizable)
PowerPoint with embedded video (customizable)
Stand-alone, menu-driven video
Participant handouts in MS Word (customizable)
Sample Everything DiSC Sales Profile
Sample Everything DiSC Sales Customer Interaction Map (available in MyEverythingDiSC)
Sales Interview Activity Card sets (for 24 participants)
Everything DiSC Sales Customer Interaction Guides (for 24 participants) Templates and images
Online resources and research 
Shipping Notice
Please note that EverythingDiSC kits are shipped from Wiley in the USA. Please allow up to 7 days for delivery. We have included shipping costs in the price. However, please note that orders from outside of the United Kingdom may incur local customs and excise duties.