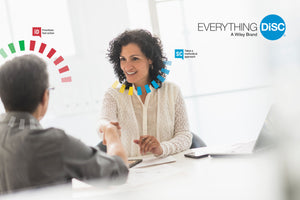 1-2-1 Online 90 minute EverythingDiSC Management Coaching Session
Regular price £295.00 Sale
Designed to help improve the effectiveness of your management skills and leadership qualities in the workplace, this 1-2-1 90 minutes online session is conducted with an experienced DiSC Practitioner/ leadership consultant. With their expertise, you will gain a better understanding of how you currently manage your team and the changes you can make.
Through this research-validated assessment method, you will be introduced to the DiSC model and the four basic styles that form it. Using this information, you will be able to better understand your individual style of management, its benefits and how you can harness these strengths to create better workplace communication.
Before your session, we will ask you to complete a brief needs analysis to ensure we build the session around your specific requirements. Please contact us to arrange a suitable time and date.
1 x 90 minute 1-2-1 online coaching session
1 x PDF workbook
1 x DiSC Management Report (worth £81.50)
Access to MyEverythingDiSC Online Learning Portal. Includes podcasts, comparison reports with colleagues, and downloadable resource
Personal Development Plan for Performance Improvement