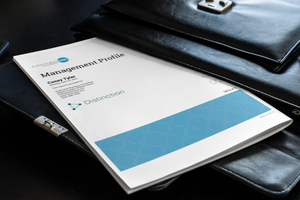 EverythingDiSC® Management Profile
Regular price £81.50 Sale
How much time and effort would it save if you knew how your direct reports prefer to be delegated to, developed and how you can create an environment increases their motivation? What if you also knew exactly how to work with your own manager to have a more productive relationship?

The EverythingDiSC® Management Profile is a research-based personality test that will build self-awareness around your own preferences and offer tangible insights into how to adapt your approach to bring out the best in your team.
Within the report, you will be able to better understand your own management style and how this may affect other people's views of you in the workplace. Using this information, you will become more comfortable with job delegation and gain the skills needed to adapt your style in accordance with all colleagues.

This DiSC report is a powerful and education tool for everyone from experienced manages through to aspirational supervisory individuals.
26-page management-specific report identifying your management strengths and areas for development
Action planning templates to help you adapt your management style to increase your effectiveness
Free Coaching Supplement available with each report
Access to Everything DiSC Catalyst platform. This online learning platform gives you access to additional personalised profile content and allows you to compare yourself to colleagues who have also completed an Everything DiSC profle.  You'll be able to learn about your colleagues' strengths and what stresses them out, compare preferences and tendencies and gain access to tips that help you work better together in a variety of situations
Click here to download a sample report

Shipping Notice
Once you place your order you will receive an email which provides a link to the survey. This email will arrive with 4 working hours of placing your order.

Once you have completed your report, you will be able to access your report online where you can download and print it.

You will also receive an invitation to access the Everything DiSC Catalyst platform