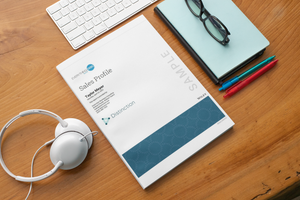 EverythingDiSC® Sales Profile
Regular price £81.50 Sale
Have you ever wanted to know how to adapt your sales approach in order to move customers more efficiently through the buying process? The EverythingDiSC® Sales Profile offers a comprehensive roadmap for optimising the way you work with clients.
First you get a detailed analysis of your sales strengths and challenges. You will then be provided with a comprehensive understanding of the buying needs of the 4 DiSC styles. You will also receive strategies for identifying the DiSC styles of your clients. This allows you to anticipate the actions of your customers and to adapt your approach to increase your effectiveness. You will receive a completely personalised Sales Profile which provides valuable and tangible tips and techniques to help you optimise your sales activity.
A full EverythingDiSC® Sales Profile report based on your individual results
A free comparison report and interaction maps for use with your company
Free Coaching Supplement available with each report
Access to Everything DiSC Catalyst platform. This online learning platform gives you access to additional personalised profile content and allows you to compare yourself to colleagues who have also completed an Everything DiSC profile.  You'll be able to learn about your colleagues' strengths and what stresses them out, compare preferences and tendencies and gain access to tips that help you work better together in a variety of situations
Available in English, Norwegian, Swedish and Danish

Click here to download a sample report
Shipping Notice
Once you place your order you will receive an email which provides a link to the survey.  This email will arrive with 4 working hours of placing your order.
Once you have completed your report, you will be able to access your report online where you can download and print it.
You will also receive an invitation to access the Everything DiSC Catalyst platform