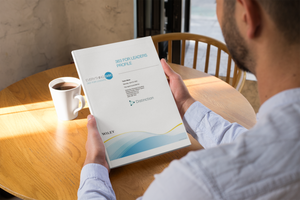 Everything DiSC 363® for Leaders
Regular price £162.50 Sale
A powerful feedback tool for leaders at all levels of your organisation. The Everything DiSC 363® takes the benefits of 360° feedback and merges this with the simplicity and power of the DiSC tool.
You select your own raters, who can be a combination of direct reports, peers, stakeholders or line managers. They are then invited to complete multiple choice survey based on their experience of you and can also provide written feedback as well. When completed, it provides valuable insight into your leadership and how your colleagues experience your leadership style.
In addition, the full report includes individual strategies for improvement ensuring you have a clear roadmap to becoming an even more effective leader.
Comprehensive 25+ page personality report for leaders
Unlimited raters option meaning comprehensive feedback
Complimentary 6 page EverythingDiSC 363 Coaching Supplement available with each leader report
Access to Everything DiSC Catalyst platform. This online learning platform gives you access to additional personalised profile content and allows you to compare yourself to colleagues who have also completed an Everything DiSC profle.  You'll be able to learn about your colleagues' strengths and what stresses them out, compare preferences and tendencies and gain access to tips that help you work better together in a variety of situation
Click here to download a sample report
Shipping Notice
Once you place your order you will receive an email which provides a link to the survey. This email will arrive with 4 working hours of placing your order.
Once you have completed your report, you will be able to access your report online where you can download and print it.
You will also receive an invitation to access the Everything DiSC Catalyst platform.