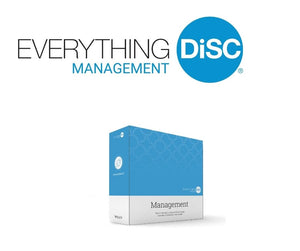 EverythingDiSC Management Facilitation Kit
Regular price £995.00 Sale
As someone who runs training sessions regularly, the Everything DiSC Management Facilitation Kit is an educational report that will help to grow your confidence. Using the DiSC module, this 4-year researched personality test provides the tools you need to educate others within your business on their management style, including areas such as decision making and problem-solving.
With this information, managers are able to understand their individual strengths and the areas where they are challenged. Using the DiSC module, you will learn how to keep your team motivated while providing resources and environments that support long-term professional growth for everyone.
This kit is flexible and trainers can modify the training session as best suits their needs.
The EverythingDiSC Management Facilitation Kit includes:
Leader's Guide in MS Word (customizable) 
PowerPoint with embedded video (customizable)
Stand-alone, menu-driven video
Participant handouts in MS Word (customizable)
Sample Everything DiSC Management Profile
Sample Everything DiSC Management Interaction Guides (for 24 participants) 
Templates and images
Resources and research
Shipping Notice
Please note that EverythingDiSC kits are shipped from Wiley in the USA. Please allow up to 7 days for delivery. We have included shipping costs in the price. However, please note that orders from outside of the United Kingdom may incur local customs and excise duties.