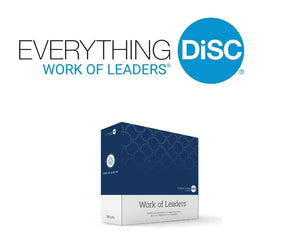 EverythingDiSC Work of Leaders Facilitation Kit
Regular price £995.00 Sale
Suitable as a training tool for organisations of all sizes, the Everything DiSC Work of Leaders Facilitation Kit is a fully flexible educational kit. It uses the DiSC module along with the Work of Leaders framework, made up of Vision, Alignment and Execution to help the leaders within your business best understand their own behaviours and their effectiveness.
Split into 5 individual modules, this programme will aid you in identifying your own leadership style and how research-based changes can make your work environment more effective. At completion, you will be able to better understand your strengths and challenges before completing a tangible action plan for implementation immediately.
The Everything DiSC Work of Leaders Facilitation Kit includes a USB drive with:
Leader's Guide in MS Word (customizable)
PowerPoint with embedded video (customizable)
Stand-alone, menu-driven video
Participant handouts in MS Word (customizable)
36 individual podcast clips including an introduction to each step of the Work of Leaders model—vision, alignment, and execution—tips for interpreting the 18 continua, and more
Sample Everything DiSC Work of Leaders Profile
Work of Leaders posters
Optional Activity: Discovering DiSC
Templates and images
Online resources and research
Shipping Notice
Please note that EverythingDiSC kits are shipped from Wiley in the USA. Please allow up to 7 days for delivery. We have included shipping costs in the price. However, please note that orders from outside of the United Kingdom may incur local customs and excise duties.