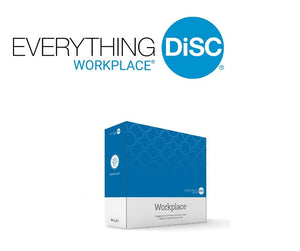 EverythingDiSC Workplace Facilitation Kit
Regular price £995.00 Sale
For organisations of all sizes and abilities, the Everything DiSC Workplace Facilitation Kit offers flexibility and tangible results. Using research-based analysis along with over 4 years of experience, it will effectively introduce all participants to their own DiSC style and give them a better understanding of how strengths and challenges affect workplace relationships.
On completion of this module-based training programme, you will gain a better understanding of what takes priority for you in a working environment and how you can use this knowledge to work with a variety of different people.
The EverythingDiSC Work of Leaders Facilitation Kit includes a USB drive with:
Leader's Guide in MS Word (customizable)
PowerPoint® with embedded video (customizable)
Stand-alone video (with and without subtitles)
Participant handouts in MS Word (customizable)
Sample Everything DiSC Workplace Profile
Sample Everything DiSC Comparison Report
Everything DiSC Workplace Style Guides
Templates and images
Access to online resources and research
Shipping Notice
Please note that EverythingDiSC kits are shipped from Wiley in the USA. Please allow up to 7 days for delivery. We have included shipping costs in the price. However, please note that orders from outside of the United Kingdom may incur local customs and excise duties.