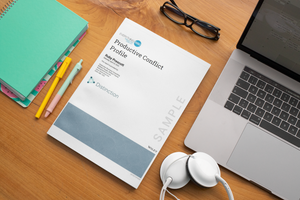 EverythingDiSC® Productive Conflict Profile
Regular price £64.95 Sale
Designed using cutting-edge insights, the new EverythingDiSC Productive Conflict Profile will help you better understand how work conflict can be transformed. It will provide you with a clear insight into your own behaviours in relation to conflict situations using the research-identified DiSC styles.
By completing these tailored training sessions, you will be given the tools to communicate effectively with your team to avoid interpersonal conflict. With a focus on how to change your view on such situations, it helps to improve your own self-awareness and to react differently to set situations.
This report is fully customisable for your business and organisation structure.
22-page Productive Conflict report to highlight personalise techniques for your own conflict style
Suitable for individual development, improving employee communication, management training and conflict management
Free Coaching Supplement available with each report
Access to Everything DiSC Catalyst platform. This online learning platform gives you access to additional personalised profile content and allows you to compare yourself to colleagues who have also completed an Everything DiSC profle.  You'll be able to learn about your colleagues' strengths and what stresses them out, compare preferences and tendencies and gain access to tips that help you work better together in a variety of situations
Click here to download a sample report
Shipping Notice
Once you place your order you will receive an email which provides a link to the survey.  This email will arrive with 4 working hours of placing your order.
Once you have completed your report, you will be able to access your report online where you can download and print it.
You will also receive an invitation to access the Everything DiSC Catalyst platform