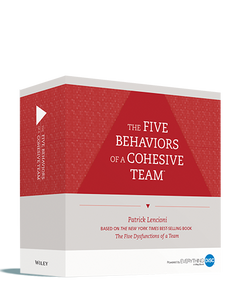 The Five Behaviors of a Cohesive Team Facilitation Kit
Regular price £1,250.00 Sale
Everything you need to successfully facilitate The Five Behaviors of a Cohesive Team one day or three day program. This kit includes a USB drive installed with a Facilitator's Guide, which includes scripted sessions and experiential activities; presentation materials; handouts; PowerPoint slides with 40+ minutes of video; and sample reports to help facilitators prepare for team sessions. Also included are audio podcasts that allow you to listen to insights on each of the five behaviors, the team profile, and the Annotated Team Report.  
** Please note that this kit does not include access to the reports. These need to be purchased separately for each member of the team.
Shipping Notice
Please note that your Five Behaviors kit is shipped from Wiley in the USA. Please allow up to 7 days for delivery. We have included shipping costs in the price. However, please note that orders from outside of the United Kingdom may incur local customs and excise duties.